When planning your loft conversion, considering the placement, and type of staircase is important. Your staircase should be a practical space-saving feature, but you also want the one that looks best in your new loft conversion. Here is a basic guide to the types of loft conversion stairs, and what benefits they have.
Get A Professional Opinion
A designer can help you with space-saving loft conversion stair ideas. A certified designer can help find you the staircase solutions that suit both your taste and your budget.
For Loft Conversion Experts – Call: 01277 363030
They will be able to advise you on the best way to utilize the space and any building regulations you might need to be aware of. Here are some of the regulations about distancing to give you an idea.
Minimum 1.9m headroom at the centre of the flight
Minimum 1.8m headroom at the edges
Maximum pitch 42°
All risers must be equal
There's no minimum width or height to your staircase but it's logical to keep a safe width of at least 60cm. The same goes for a handrail, in most staircases of three or more steps a handrail is recommended. There are several loft conversion staircase solutions to choose from.
Types Of Loft Conversion Stairs
Your designer will be able to advise you on the different types of loft conversion stairs and which would work best in your home. Here are some of the most popular examples of loft stairs.
1. Bespoke Stairs
Many people opt for bespoke stairs over a pre-made staircase for a more personal and unique design. All loft staircases need to be customized to a certain extent to fit the measurements of your home. Bespoke stairs offer a more impressive result, however. They'll be made to order by a specialist joiner or manufacturer and are noticeable more stylish and better quality.
Bespoke staircases are more costly for obvious reasons, but the results are well worth the difference. They're also an investment and you'll be adding a more permanent and valuable architectural feature to your home. If you're looking to give a unique flair to your loft conversion stairs, have a chat with your designer about some bespoke options.
2. Pre-Made Stairs
If you go for pre-made staircases, these can also be very attractive and durable. Being scaled by larger manufacturers, rather than custom made, they'll have a more economical advantage. Staircases produced by large-scale manufacturers tend to be quicker to build as well. It's up to you what you decide.
Often standard loft stairs come in wood design kits, but there other types of pre-made stairs. These include adjustable modular staircases and metallic options such as zinc or a combination of timber and metal. As far as the design goes you can choose from the following loft conversion stairs ideas. All types of staircases can be bespoke or pre-made and you can accessorize with banister and balustrading options.
3. Spiral Staircase
If your loft or landing is smaller and you need space-saving loft conversion stairs, a spiral staircase is a good choice. As well as being practical, they're also a cheaper option. On average, a spiral staircase starts at £500 approx. to install.
The only problem you might find is that it can be awkward to work around regulations. You'll need to hire a surveyor to check your measurements. Spiral staircases look fantastic nonetheless and add a dramatic impact to your landing design.
4. Paddle Stairs
Paddle stairs are another great option for space-saving loft stairs ideas. These are made using alternating treads in the shape of a paddle. They take up a lot less space than conventional loft conversion stairs and also have a more unique shape. The overlapping of the paddle treads means they normally are about half the length of a conventional staircase, and you can save more space for your landing floor.
Paddle stairs are perfectly safe, but often steeper than other types of stairs, as their main purpose is to save space. They work quite nicely for loft conversions as they can be added to even the smallest of landing spaces.
If you are planning to convert your loft into a living space, stairs will be an essential consideration. There are various types of staircases to choose from!
The first thing to consider when deciding which type of staircase to install in your loft conversion is the shape and size of the room.
The next step is figuring out where you want the stairs positioned within the room so that the stairs don't take up valuable floor space unnecessarily or interfere with any other furniture or fixtures.
An alternative option is putting them at one end of the room if it's large enough – this way, they take up less space but still lead upstairs nicely. Once you've decided where to put the stairs, it's time to choose your preferred type of design.
Loft Conversion Stair Design Ideas
Suppose you're looking for a contemporary look. In that case, the floating staircase is perfect as they have no visible supports and are fixed directly on the floor or ceiling without any need for spindles or bannisters (although these can be added to personalise them).
Platform steps make good use of small spaces because even if there isn't enough room on one side, you can add more until it matches up with the other end.
Stairs that wind their way around furniture in an L-shape might not work so well in a smaller space, though – check where all your doors lead before making this decision!
Finally, if you want some extra privacy from intruders trying to climb the stairs, then you might want to consider installing a half landing.
This is also useful if there are different levels in the room as it can help break up the space and make things more interesting from an architectural point of view!
The last thing you need to think about when deciding on which type of staircase for your loft conversion is its price – they vary widely depending on size and materials used, so get some quotes first before making any decisions.
It's also worth bearing in mind that stairs have been known to be one of the most challenging parts of any building work project, so plan and take advice from people who've had experience with them before. The last thing you want is all your hard work going down the drain because something went wrong at this crucial point!
How Wide Should Stairs Be For a Loft Conversion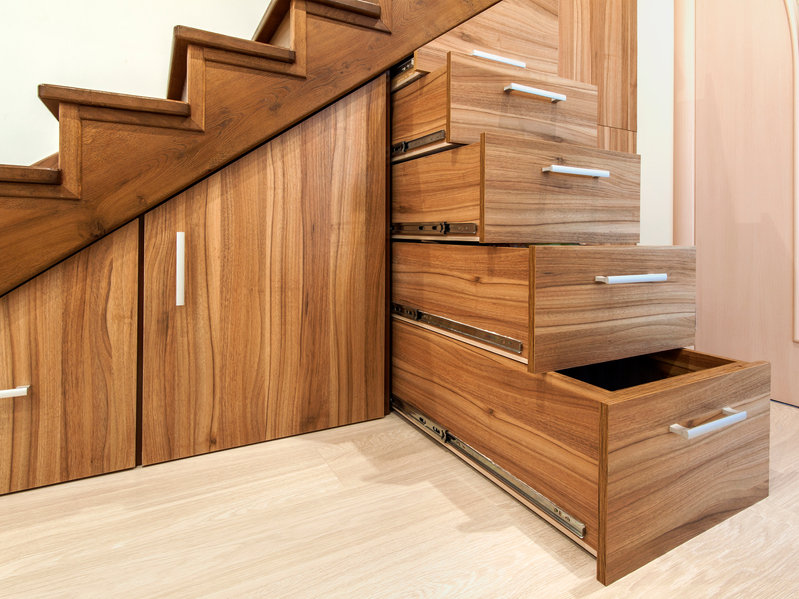 The most important measurement for a loft conversion staircase is its width. The average stair width is 30 inches or 76 centimetres, but you may need to use narrower stairs if there is not enough room in your new space.
This means that it can be tricky to know what size will work best without seeing an example first-hand. For example, if you are a bit short on space, an excellent way to get more headroom would be by using open-stringer steps. Open-stringer steps have no closed sides, so they take up less floor area and make climbing much easier than standard stairs with closed stringers because these obstruct the view upwards when climbing.
If you don't want any clutter from the sidewalls of treads and risers, consider installing a newel post at the end of each flight. This will leave a clean finish on both sides and make climbing much easier as you can hold onto something for stability.
Loft Conversion Stair Design Ideas After the stair is installed
It is essential to make sure that you have proper headroom and space for your loft conversion. To do this, measure the total height of your new stairs from top to bottom. When designing a staircase in a loft conversion, there are two types: open or closed (or semi-open).
Closed designs will add extra steps on either side of the landing, while an open layout won't change how many steps are up into the room. If you want as much floor area available with less walls taking up that precious square footage, opt for an open design that will eliminate those pesky posts at each end of a landing and provide lots more light! You can even use glass panels instead of railing if it suits your style.
Open stairs allow you to maximise floor space and create an airy feel in the room by eliminating those pesky posts at each end of a landing, as well as providing lots of natural light. This type is best suited when no part of the staircase will be visible from any other area in the house or where there's not enough width available on either side. These open designs work great with wide-angle risers positioned close together that curve around corners effortlessly like they're made out of one single piece (think circular).
Conclusion
The first and foremost requirement of the staircase is that it provides safe and convenient access to your loft conversion. But why not take the opportunity to add a beautiful sculptural feature to your home? Explore all the possibilities to get the most out of your loft conversion stairs. Add a touch of elegance and flair to your extension. With the right design, you can even cut costs without compromising on style.